2020 Must-have Business Signs
8/28/2020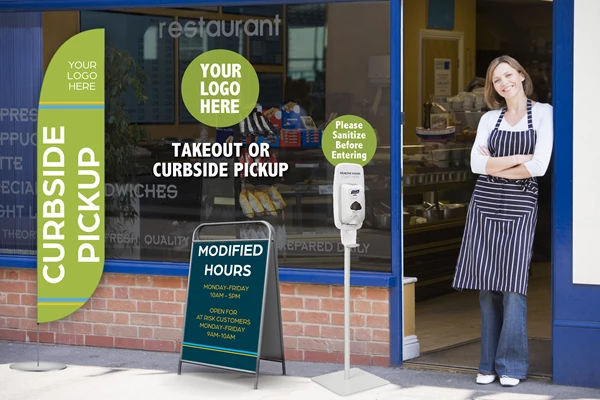 Now that our communities/cities are getting back to business, almost everyone is back to business, and people are starting to make their way out their homes slowly, signage is more important than ever. Having professionally made safety and social distancing signs are crucial for businesses in any industry. This is why we've put together this list with the top social distancing and safety signs every business should have.
· New Schedule Signage: Many companies have modified their service hours, and it's one of the main things customers will look for when they go to a location. There are different temporary or permanent signage options to display your hours of operation or temporary closures. If you are looking for something to place on the entryways, window, or door decals can be the perfect solution. If you are looking to inform passerby, a good size banner may be the way to go.
· Curbside Signage: Retail and service industry businesses are taking advantage of curbside pickups to limit the number of people at their location. If you are offering curbside options, having visible signage outside of your location is necessary. Depending on where you want to place the signs, we can recommend one of our many options like feather banners, traditional banners, or A-frames.
· Wayfinding and Physical Distance Reminders: Large and medium-sized businesses with a high volume of foot traffic, like retail and grocery stores, have wayfinding signage. Due to the pandemic, many of these locations have felt the need to re-do some of their signage to comply with the changing health, safety, and social distancing regulations. Some of the most popular signage solutions to address these changing needs are temporary vinyl decals for entrances and floors, or banners to help guide visitors.
· Safety signs: As businesses adjust to new safety guidelines, their need for custom safety signage increases. These signs are not only for visitors but to help protect and keep your staff safe. Use custom posters, banners, and graphics to let people know about potential hazards, special warnings, or specific practices to follow.
· Personal Protection Signs: Companies everywhere are having to use special signs to let people know they are required to wear personal protection equipment such as masks and gloves when they are at their location. In addition to this, an extension of personal protection signs is things like sneeze shields to limit exposure at check-outs and at counters where proximity is necessary.
Restarting the economy is going to be a joint effort. As a local business ourselves, we want to help others in our community get the tools they need to open their locations to the public safely. If you are looking for any of these must-have 2020 custom signage solutions, contact us today!
Fast. Local. Personal. For over 35 years, KKP has been supplying a comprehensive range of high-quality print, design and sign services as well as marketing assistance to Canadian businesses.
Back