3 Tips For Planning a Successful Trade Show
3/25/2022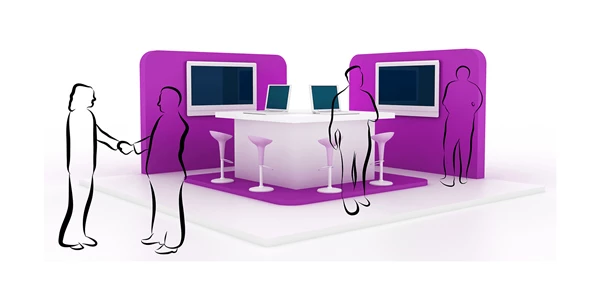 Participating in a trade show can come with a long list of benefits for your business, ranging from meeting new potential customers to expanding brand awareness for your company. When you are planning for a trade show, there are a lot of different details to keep in mind, but you need to start with goal setting. What do you hope to obtain from the event? How are you going to measure your success? Setting the stage early on in the planning process will not only increase your chances of being successful but can help identify additional materials or details early on.
There can be a lot of things to consider, like what kind of area you are going to be working in, the size of the trade show booth or area, displays you are going to use, and what potential partners and competitors you will be in attendance. Whether it's your first trade show or you're just looking to fine-tune your process, the following tips can help you plan a successful trade show:
1. Choosing the Right People for the Job
One of the most important parts of the early planning process will be deciding who is going to represent your business. It may seem intuitive, but it is worth mentioning that the staff you send should be outgoing, make a great impression, and be knowledgeable about your products and service offerings. In addition, your staff members should be well aware of the goals you have for the event and well equipped to accomplish them. You should look for someone who will be a great brand ambassador for your business, actin a professional manner and be courteous to event attendees. Make sure that your team is properly outfitted in branded apparel so they are easily identifiable in your booth and when they are at the event. They should feel comfortable setting up your trade show exhibit, be confident talking about your company and be open to discussing new business opportunities.
2. Attracting Potential Customers
Trade show displays should be bold, properly branded and clearly communicate what your business has to offer. Trade show attendees are likely to pass you by unless something catches their attention enough for them to feel that it's worth a stop.
Your booth alone can draw attention, but what they see when approaching your display is also essential. Your trade show display is a reflection of your business and, in most instances, will be a prospective customer's first impression. The graphics and displays you use for the event should be professionally designed with a specific purpose in mind.
A well-designed trade show booth and professionally printed marketing materials will grab the attention of event attendees. Going above and beyond the average booth or table can be a great way to set yourself apart from the dozens of other businesses in your vicinity competing for the attention of the attendees. There are many ways to do this, but the key thing to keep in mind is that the more a visitor enjoys an interaction, the more likely they are to remember you after the event. Consider setting up contests, offering up treats, or even free promotional products to everyone that passes by. These items can create a positive impression and will remind them of your business after the event is complete.
3. Following Up On Leads
When you plan on attending a trade show, two of the most important things that you need to consider are where does lead generation fall in your goals and how are you going to collect the information at the event? It is always good to generate new leads for your business or organization, but they aren't worth much if you don't follow up with them after the show. You should have a specific plan that gets immediately implemented after the event to qualify customers further, follow up with questions, or arrange meetings. This follow-up plan should include what information you are going to send to them and how it's going to be delivered.
Keep in mind that a trade show comes with additional opportunities outside of lead generation. During the event, take time to network with other businesses that you may be able to partner with later on. You should also remember that creating or increasing brand awareness is an achievement, and even if you don't create a lot of contacts during the show, you may still find attendees contacting you later on.
Maximizing your chance of success often comes down to effort and preparation. Coming up with an attention-grabbing display and creating just the right message can take time. There is no perfect formula for coming out ahead, but you will find that if you put work in you will be able to obtain great results.
Do you need custom printed materials or graphics for your next trade show? Contact your local KKP for help designing, planning, and printing high-quality trade show products that represent your business.
Fast. Local. Personal. For over 35 years, KKP has been supplying a comprehensive range of high-quality print, design and sign services as well as marketing assistance to Canadian businesses.
Back