5 Tips To Hang Canvas Prints Like A Pro
7/24/2019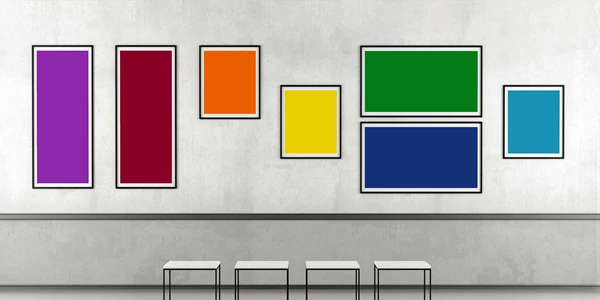 Hanging your canvas prints or any other type of artwork on a wall may not seem complicated. However, there are some guidelines that can help make this process easier. Most interior designers agree on specific rules that can be applied every time you want to decorate a wall. We have gathered a few of those rules to help you understand this process and teach you how to hang your art like a pro.
#1 Pick a location and determine the size of your canvas print.
The first steps will always be to select the piece of art you want to display and the location. In most cases, the area and the size of the wall you want to decorate will determine the size of your artwork. If you are only hanging one canvas print, a common design rule states the canvas needs to cover 4/7 of your wall. The only measurements you will need to determine the ideal size of your artwork will be the total width and height of the wall. In case the wall you are trying to decorate has windows or doors, consider measuring the distance from frame to frame to get a good idea of the space you will be working with. Once you have those numbers, you can divide separately the height and the width by 7 and then multiply the result by 4. The resulting numbers will give you the dimensions of the canvas print you should use on that wall.
#2 Use more than one canvas print to decorate your wall:
New wall decoration trends suggest that instead of just using one single large canvas to decorate bigger walls, you can choose several smaller pieces. Smaller canvases can be hung in a variety of fun and creative layout designs and patterns.
Using multiple pieces of artwork can help you make a statement and even tell a story. It will be essential to make sure the different pieces you select create an overall unified look. Creating a gallery wall to display a collection of images will give your location a modern look.
An important rule to follow when you are hanging multiple pieces of artwork together will be to leave at least 2 inches of separation between each piece. This number may increase depending on the total size of the wall.
#3 Positioning your canvas:
A commonly used measure to hang artwork suggests you place it at eye level; this way, you will be able to fully view the entire piece. However, this rule is not very exact as it may vary depending on the person who is installing the artwork. A different design rule suggests using the canvas as the point of reference. All you have to do is measure the canvas to find its center; once you find the center, measure 57 inches from the floor up and match this location with the center of the painting.
In case you have low ceilings, you can use a different design rule. In this type of situation measure the height from floor to ceiling and divide this measure by 4. This will help you separate the wall in quadrants. You should use the third quadrant from the floor up to hang your canvas print.
If there is furniture such as sofas or tables where the canvas will be featured, a good design tip is to make sure the piece of art is not wider than the furniture. Some designers suggest the canvas should ideally be around 75% of the width of the furniture.
#4 Hanging the canvas:
If you are planning on hanging multiple canvas prints on a wall, try laying all the pieces together on the floor. This will allow you to decide if you want to make any changes to the layout before you mark the wall.
If you are only hanging one piece of art on the wall, a strategy used by interior designers is tracing the canvas on a piece of paper and cutting out the shape. They then use the paper cutout to try different placements on the wall and mark the hanging points. Testing out the arrangement of your artwork on a wall will help guarantee your results look flawless.
#5 Check your canvases are straight:
Once your canvas prints are up on the wall, you will need to make sure all your artwork is straight, and the spacings are correct. To do this, you can use a level if you have one. This tool is specially made to help you determine whether a surface is perfectly horizontal or vertical.
In case you don't have a level available, there are other options you can use. One option is to download a free app on your phone to act as a level. Another choice will be to double check your spacing with a measuring tape. Last but not least, you can try using a small round object. Place it on top of the canvas. If the round object doesn't slide down one the sides, this will be a good indication that your canvas is perfectly straight.
If you want to get started with custom canvas prints, contact your local KKP team!
Fast. Local. Personal. For over 35 years, KKP has been supplying a comprehensive range of high-quality print, design and sign services as well as marketing assistance to Canadian businesses.
Back