5 Ways To Use Vehicle Graphics For Your Business
5/29/2019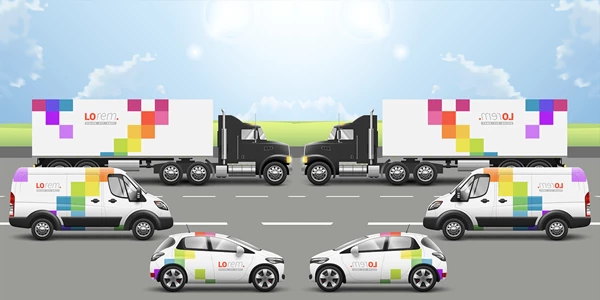 Vehicle wraps and decals are effective and affordable ways to reach a broad audience. If you or your company own one or more vehicles, it may be a good idea to start thinking about how to leverage the promotional advantages of custom decals or vehicle wraps.
The great things about vehicle graphics is they are vinyl semi-permanent skins that can be customized with any design. They are easily applied over your vehicle's paint without causing any damage to it.
You can use vehicle graphics to promote your business in many different ways. Turn your vehicles into powerful marketing tools for your business!
#1 - Branding
Branding is important for any business. It's what helps identify and differentiate your products or services in the market. Once you have the name and logo for your brand, you will want to be able to show it to as many people as possible. This is where vehicle graphics can help increase your brand recognition.
Vehicle graphics are great for brand awareness. You can customize the design and make it as complicated or as simple as you want. You can choose to go with some simple but elegant vehicle lettering or with a vehicle wrap. There are options available for every budget; the important thing is to make sure the graphics on your vehicle represent that specific look you want your brand to portray.
#2 – Special Promotions
Since vehicle graphics are not permanent, they are ideal for featuring special promotions and limited time deals. If you want to promote a special discount or a seasonal promotion, they will help you spread the word fast.
To be able to measure the effectiveness of your vehicle graphics consider including a custom phone number or a unique website URL. The URLs you use on your vehicle can redirect people to custom landing pages where you will be able to track the traffic and online conversions easily.
#3 – Establish your business locally.
Using vehicle graphics to advertise your business can be especially beneficial if you are trying to target a defined local area. As always with marketing, don't forget your audience. They should be your guide for making design decisions.
You can carefully plan a route for your vehicle to maximize the exposure of your promotional message in specific zip codes.
#4 – Enhance your professional appearance
If you want to enhance your professional appearance contact a vehicle wrap specialist like KKP. You will be able to talk to a professional designer to discuss the ideas you have and the image you want to portray. Professional businesses stand out on the road thanks to the custom graphics on their vehicle.
In most cases, the specialized software that graphic designers use will let you review the vehicle graphic design before it gets printed and installed. This will allow you to make changes and have an overall idea of what the final product will look like.
#5 - Think beyond cars when you consider vehicle graphics
When people hear about vehicle graphics, they usually limit their options and think these types of custom graphics will only work for their cars, trucks, and trailers. But this is not the case, when we talk about vehicle graphics, we are talking about not only motor vehicles but also bicycles, railed cars, watercrafts, aircrafts, and even spacecrafts.
The possibilities are endless. The critical thing to remember is your vehicle graphics should be consistent and match your other marketing materials. To make sure your brand is cohesive, rely on your vehicle graphics experts to help you customize a message that will look good in any vehicle you choose.
Our team at KKP is here to help with you all your auto graphics needs. Of course, no marketing effort can be considered without evaluating the return on investment. Intricate designs tend to be more costly to produce and apply. So, discussing your options with a vehicle graphic specialist will allow you to understand all the different options available to you and the pricing. Vehicle graphics are known for providing high returns on investment and tend to be a very affordable medium to gain brand exposure and awareness.
Get started with vehicle graphics today!
If you are considering vehicle graphics and would like to learn more, turn to the professionals at KKP. We will help you design attractive and compelling graphics that will work well with your vehicles. Fast. Local. Personal. For over 35 years KKP has been supplying a comprehensive range of high-quality print, design and sign services as well as marketing assistance to Canadian businesses. Contact us to help you make the most of your business vehicles!
Back