6 Tips for Designing a Website
4/10/2019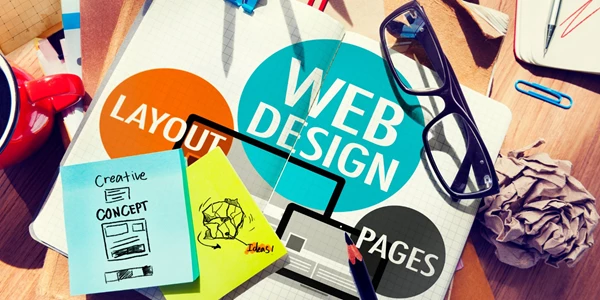 Your website should reflect your brand, but there's more that goes into design than just colors and formatting. A good website should be created with your customers in mind, and it should be optimized so search engines can index it correctly. The following concepts are six things you should keep in mind when creating a new website that is useful for yourself and customers.
1. Pick a Website Builder
Before you even begin building your website, you'll need to choose from a variety of platforms. There's a wide variety of options including WordPress, Squarespace, Wix, and Joomla, among others. Some of these options are free, like WordPress, while others cost money, such as Wix. Each platform offers a way for anybody to create a website; however for professional results, we always recommend contacting an experienced website designer. They can help guide you in every aspect of the web design, from copywriting to purchasing your website's domain.
2. Determine Your Layout
After you've chosen a website platform, it's time to figure out the layout. There is a lot to figure out, so making a list of everything of what needs to be included and sketching out a simple layout of what you would like the website to look like will be helpful.
Some things to consider for the layout include the following:
The number of pages
The location of the navigation bar
The position of any signup forms, like newsletters
The inclusion and location of social media buttons
The placement of content and photos
Even after you've figured out your layout, don't feel as though you have to stick to a specific format, discuss all of your options with a designer. Once your website is created there will always be room for making improvements.
3. Pick your colours
Next, you need to choose your theme. A theme is a design template that will define how your website looks. You can choose to customize the theme by changing the colours, fonts, and styles.
4. Make Navigation Easy
The navigation bar is how customers move between pages and around your site. Most websites include the following:
Home page
About page
Services page
Blog page
Portfolio page
Contact page
The navigation bar has two important obligations to fulfill. One, it must be highly visible. Two, it must be easy to use. That means your navigation bar should be in a location on the site that is highly visible. Customers should also have an easy time of moving between the pages on your website for a seamless transition.
5. Develop Good Content
Website design is about more than just how the site looks. It's also about the content it contains. This means you need to carefully plan out the words on your website pages, so the content is relevant, useful and engaging to your target audience.
This begins on your home page with an engaging introduction that informs your customers they have found the experts who can solve their problem. Let your brand voice be heard throughout every page while providing useful information in a friendly, authoritative and engaging manner.
6. Optimize for Search Engines
For your website to be truly efficient, it must be easy to find in search engines. Often, customers will search for what they're looking for. They use keywords and location modifiers. For example, "Printing services in San Francisco." Now, if your website is optimized for search engines, it should appear in the search results and guide potential customers to you.
Search engine optimization, or SEO, is all about employing the right keywords in your website content that helps customers find you and help search engines rank your website in terms of relevance.
Designing a website is not an easy or a quick process. A lot of elements go into it and knowing those elements is essential. The KKP's team works with you to develop a website that reflects your brand and helps you meet your goal. Learn more about our design services and how we can help you build a site that's perfect for you.
Are you interested in discussing your new website with experts? Contact your local KKP experts.
Fast. Local. Personal. For over 35 years KKP has been supplying a comprehensive range of high-quality print, design and sign services as well as marketing assistance to Canadian businesses. For expert assistance, attentive service and affordable prices, contact us today.
Back