8 Website Design Trends of 2019
4/24/2019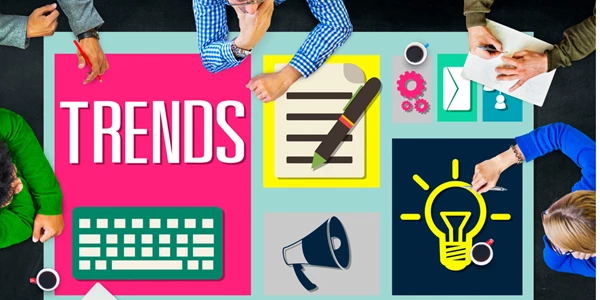 Websites have come a long way since the invention of the internet. Every day many design features are introduced, and designers must be able to keep up with the changes. Below are eight website design trends that will lead the way in 2019.
1. Black and White
Color trends are always changing; one of the most popular themes this year is the removal of color. In 2019, websites are going to feature fewer colors with a neutral black and white scheme. This trend alone has endless potential for designers to play with.
For example, adding a pop of color for emphasis to a call-to-action will help break up the monotony of a simple color palette and deliver a big visual impact.
2. Minimalism
The 90's minimalism trends are coming back. The less there is, the better. Designers can focus on the overall story the website tells while using as few elements as possible.
This is done through the creative use of contrast, white space, fade-ins, and animations to direct customers to the content or solution they need without overcrowding the space with unnecessary words. Not only does this unclutter the space, but it also gives the website a clean and fresh look without being sterile.
3. Serifs Text
For years there has been a rule about which type of fonts are appropriate for the internet and which are not. For example, sans serif has always been the preferred typography for web content while serifs have strictly been used for print documents. However, there is a shift towards using serifs for modern website design in 2019.
Traditionally, serifs fonts are considered decorative and should only be used for emphasis. However, the bold lines and curved edges make serifs ideal for branding. They can help give your website a modern and playful feel.
4. Video Content
Over the past several years, video content created a space for itself in website design. Websites began to include videos as a marketing tool, and also to create interactive experiences for customers. While it's not necessarily a new trend, the way it is now being employed is fresh.
Visitors to a website can easily watch videos instead of reading through large blocks of text. Whether it's showing how a product works or explaining the benefits of a service, video content can boost a website and keep up with the cool website design trends for this year.
5. Micro-interactions
Another increasingly popular trend is micro-interactions. These are small movements that happen when a user interacts with a website. This could be simple things such as the sound an icon makes when a new message is received or a ding when the page is refreshed.
No matter how small the interaction is, a smart website is constantly engaging with the user about their actions. That gives the site an animated feel and establishes a more engaged connection than a standard design.
6. Ambient Design
In the last decade, the number of time people spent on the computer each day skyrocketed. Due to that, one trend emerging in 2019 is ambient design. This type of modern website design adapts to the user's location, time of day and even weather.
For example, video streaming services are also beginning to offer a nighttime view to make watching movies easier. That means the system enables an ambient viewing experience based on the user's situational setting and adapts to various conditions, partially to make it easier on the eyes and also to help the website to function better in different conditions.
7. Freeform Design
There is a surge in designers letting go of the status quo and creating freeform websites. That is, creating websites that don't follow the standard templates set forth by previous years. Not only do websites have the capability to be unique to a brand, but designers also can work outside the box and let their creativity be in charge with this type of design.
8. Mobile Friendly
Creating a website that is mobile friendly is less of a trend and more of a standard feature at this point. However, optimizing websites for scrolling is the new trend.
Over the years, countless research has gone into discovering how to design websites that can be used on a mobile device. This means taking mobile operation and thumb scrolling into consideration. With this capability as part of a modern website design, your website is more mobile-friendly than ever, and users have a greater capacity to interact with your website.
Design elements are constantly evolving to keep up with technological advances. For a website that employs these trends, use KKP's website design services to help you build the website you need. That way, you know your website is working for you while providing the best experience for your customers.
Need help in implementing these website design trends? Contact the experts at KKP.
Fast. Local. Personal. For over 35 years KKP has been supplying a comprehensive range of high-quality print, design and sign services as well as marketing assistance to Canadian businesses. For expert assistance, attentive service and affordable prices, contact us today.
Back