Business Stationery Every Company Should Have
8/6/2019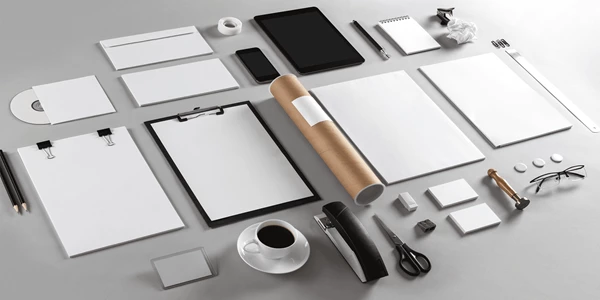 With the increase of digital communications, new business owners may think stationery is no longer necessary. But even digital giants such as Google understand the value of personalized stationery. Being a digital search engine, you would think all of their business could be done online, but Google understands all their mailing and print communications should be branded. In addition, Google has leveraged the power of their brand by making branded promotional products available for sale to the public.
There are many reasons why every business should consider investing in custom business stationery. However, the main reason why personalized stationery is so important is because it's the first step in making any new business look professional and established.
Your stationery should reflect your brand and speak positively about your business. Adding your branding to a variety of stationery elements is an easy and affordable way to get your business name in the hands of many.
Whether you are starting a new business, or you are already established, here are the seven business stationery items every company should have.
1. Business cards:
This is one of the first customized stationery items any company should have. A professionally designed business card is the perfect tool to network and promote your brand. With modern printing techniques, there are many ways to make your business card stand out.
2. Folders:
A branded folder can be used to present meaningful information about your company. A customized folder can make your business presentation look more polished. When it comes to folders, you can get creative with your brand and implement an eye-catching design. The more durable and memorable your presentation folders are, the more likely your clients will be to hold on to them.
3. Letterhead:
Even though most communications happen online, having a corporate letterhead is still very important. Making sure all your paper communications have the imprint of your brand identity will add value to your business. In addition to using letterhead, consider using a thicker paper to print anything of importance to help convey the values your brand represents. For example, if your company works with children, the paper you pick may be colourful and glossy, or if your business promotes being environmentally conscious, it would be a good idea to use recyclable paper instead.
4. Envelopes:
The same way your letterheads should be branded, your envelopes should be as well. Here you can include more information about your company, such as your address and slogan. You should customize envelopes in a variety of sizes to make sure you have one for every occasion. The goal is to make sure that any time anyone receives a letter from your company; they get exposed to your brand's identity.
5. Postcards
Postcards are often an underestimated marketing tool. They are small, inexpensive, and easy to distribute. Branding a postcard with all of your company's information and attractive designs can help increase your company's public visibility. A branded postcard can be included in all your mailings, distributed at your location, special events and industry tradeshows.
6. Notepads or Post-it Notes:
During a regular business day, most people take notes; this means branded notepads are always useful. Your employees can use them, or you can give them away to select customers. You can play around with different sizes and even notepad and post-it shapes. Make sure you pick colours that represent your brand and match your logo.
7. Greeting Cards:
A branded greeting card may not seem very important, but successful companies understand the power of reaching people on a personal level with a greeting card. Even if you have your customer's email address, sending a physical card has a more significant impact. Loyalty programs for big brands often use personalized cards to thank clients for their business.
If you want to get started with business stationery or you need ideas to improve your existing designs, contact your local KKP! At KKP Canada we're committed to supplying Canadian businesses with professional stationery using the highest quality print techniques and paper. Our team will be able to provide the ideal solution and work within your budget to find the perfect business stationery design for your company.
Fast. Local. Personal. For over 35 years, KKP has been supplying a comprehensive range of high-quality print, design and sign services as well as marketing assistance to Canadian businesses.
Back