Creative Ways To Use Custom Canvas Prints For Your Business
7/10/2019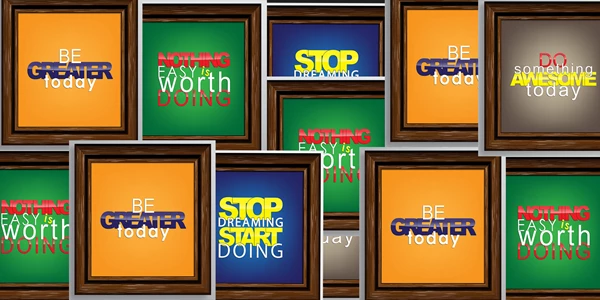 According to an article from Forbes Magazine, the impact of art in the workplace is often underestimated. Research by Exeter University's School of Psychology found employees who have control over the design and layout of their work environment are 32% more productive. Decorating the working environment should be a priority for any business.
Enhancing your work-space with artwork can help influence moods, creativity, and even appetite. You will be able to raise employee morale and at the same time, improve the overall atmosphere of your business.
Personalize your space with custom art to make sure your location feels welcoming. Canvas prints are one of the easiest, fastest, and most affordable ways to decorate your walls. Use these creative ideas to bring your surroundings to life with custom canvas prints.
1. Make your office walls talk with inspirational quotes.
Have you ever read a quote that truly inspired you? Words can have a powerful impact on all of us. Decorate your business with messages that remind your employees about the mission and goals of your company. Sharing an inspiring message at your workplace can be a great way to motivate and encourage people. Printing an inspirational quote on canvas is easy, you just need to select the meaningful words you want to display carefully. After you have decided what message you want printed on canvas, you can let your local experts handle the rest. Professional print shops have designer teams who can help you pick a readable font, and a simple background to contrast with the letters and make the message stand out.
2. Create a gallery wall with multiple canvas prints.
There are a variety of popular canvas groupings and clusters you can use to decorate your office walls. When it comes to canvas prints, you have more layout options than just using one single print per wall. Design a custom gallery wall with multiple canvas prints and play around with the positioning and shapes. Custom canvas print shops will allow you to personalize not only the size and shape of the canvas but also the edges of each canvas print.
3. Bring the outdoor indoors.
A great way to bring to your company some of the beauty from outdoor spaces without making a big mess is using canvas prints. If you don't have a lot of windows at your workplace, consider featuring landscapes, flowers, animals, and other elements from nature on your walls. Outdoor elements offer a broad colour palette that can help brighten up any room. The critical thing to remember when you select an image for your business is it should seamlessly compliment your interior decoration.
4. Feature your product on canvas.
Promoting your business shouldn't stop once your customers walk through your doors. With canvas prints, you can continue to advertise your products and services throughout your location. Feature on your walls high-quality pictures of your products, company values, or highlight some of your team in action.
Ready to personalize your office space with custom canvas prints? Your local KKP print shop will be able to use existing files you have, or even scan physical photographs and print them on a canvas for you!
KKP can deliver you the high-quality canvas prints you are looking for. Our vibrant, fade-resistant printing techniques will give you long lasting results. Fast. Local. Personal. For over 35 years, KKP has been supplying a comprehensive range of high-quality print, design and sign services as well as marketing assistance to Canadian businesses.
Back