Do you have the right size banner for your event?
9/25/2019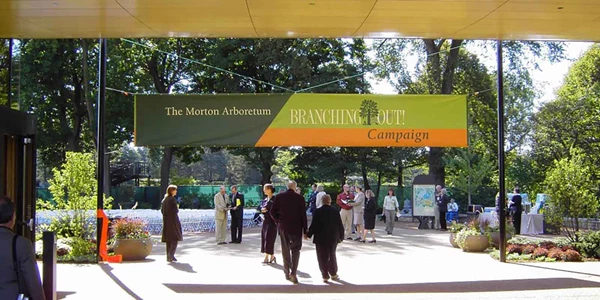 Full-colour banners are one of the most popular types of signage for events. If there's a special event on your horizon, you're probably planning on posting a promotional banner on a wall, ceiling, booth, tent, nearby fence or elsewhere. Event banners are used to entice passersby, direct foot traffic, and add curb appeal to the location.
But just as there are multiple applications for banners, there is also an unlimited array of sizes. In 2015, German soccer team, Dynamo Dresden, set a record by covering their stadium on all four sides with a massive banner sized at 12,000 square metres. While you may not need something as massive, you should be aware that when it comes to the dimensions of your banners, the possibilities are endless.
So, how can you choose the right size banner for your next event? Since this a question our team hears a lot, here are some practical tips to help guide you:
· Think about your message first.
If there is a lot of information you want to include, in addition to several graphics and a company or event logo, you will need enough room, and you may need a larger banner. Cramming multiple elements in a smaller banner will not only impede readability but will also result in an unattractive design.
If you are planning an event and have a website promoting the event, you can save space in your banner by including only the website address. The less information you include will make your message easier to remember.
· To determine the type of design you want; look for examples of banners you like.
A great way to get the banner you are envisioning for your event is to look for some examples of banners you've liked and discuss the details with your banner printing specialists. The event banner size will determine the styles you choose.
Keep in mind that small banners will not showcase intricate designs, "busy" photos or complex logos properly. Event exhibitors often discover this fact to their disappointment when an otherwise attractive but intricate designs lose impact once downsized.
One solution? If seeking to display multiple design elements, consider using several banners instead of one. Separate banners will look better collectively, and they can work to enhance impact.
· Figure out the dimension of the event space.
The location of your banner is going to be the main factor in determining the correct size for your banners. To stand out in an outdoor space or arena-sized indoor venue, you'll need a larger banner. Choose one that's too small, and it will appear dwarfed by its surroundings. Even worse, it won't catch the eye of event attendees the way bigger banners posted by your competitors will.
On the other hand, if your venue is a small one, a big banner will not only look out of place but also may be difficult to install correctly. In this instance, consider a downsized version that can be displayed in a banner stand.
· Think about the number of people who will see your banner.
If you are using the banner for a tradeshow, you should be able to find out how many people are likely to attend. Popular events call for larger banners. You'll likely be competing with others for the eyes and imagination of visitors. That said, if you are one of a few exhibitors at an event such as an educational conference or coin show, you may be able to achieve your goal with a smaller sign.
· Find out if there are any restrictions related to signage and banners for this event.
The event banner design may be limited by pre-established restrictions set by the event venue, organizers, or the location. You – or your signage and graphics provider – will want to check on signage size regulations before proceeding. Many trade show halls have banner size restrictions. If you're seeking to mount your sign at a parade, festival, marathon or other similar public function, keep in mind most municipalities also have regulations.
Need help designing a banner for your next event? Contact your local KKP team!
Fast. Local. Personal. For over 35 years, KKP has been supplying a comprehensive range of high-quality print, design, and sign services to Canadian businesses. For expert assistance, attentive service and affordable prices, contact us today
Back