Elements of a Great SEO Website
4/17/2019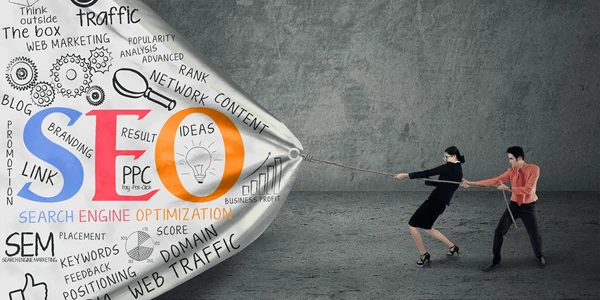 If you want your business to be successful and have a good online presence, you will need an SEO friendly website. In today's digital world, a company's website functions as the heart of its overall marketing campaigns. Without SEO it will be very hard for your business to be found by search engines. Unfortunately, many business owners tend to build their websites and think about SEO later, which is a major mistake. A website should be designed with SEO in mind to make sure the URL structure, the images featured, and the content is optimized for search engines.
What is SEO?
SEO stands for "search engine optimization," which is the process of optimizing a website to help it rank in the first pages of search engine results. When a person uses a search engine to look for something, the results presented on the first page are the ones with the highest SEO value. In other words, the sites that best-employed SEO tactics will be presented first and receive significantly more traffic than those that did not. If your website does not appear on the first page of search results, more than likely, customers won't bother to look for it on the other pages.
Is Your Site User-Friendly?
A beautiful website is always great, but if you want it to attract visitors and earn high rankings from search engines, it must also be user-friendly. This means making your site easy to navigate. What goods or services do you offer? Where are you located? Who is in charge of the business? These are simple questions visitors should be able to find within seconds of going to your website.
Content Creation
The most authoritative and trustworthy websites will always rank the highest. The first rule of SEO is "content is king." This means the information on your website must be interesting and factual. Content comes in a wide variety of forms, ranging from simple text and blog posts, to infographics and videos. When building a website, it is good practice to focus more on the quality as opposed to the quantity – posting a significant amount of boring, uninformative content will not help you rank higher.
The content describing your products or services is immensely important, but there are other types of content you can use to boost your rankings. Anything informative, such as case studies, testimonials, user manuals, or videos demonstrating how your products or services can be used will make your site more SEO-friendly. The quality of the content on your website will help build trust between your customers and your company.
The Importance of Keywords
When you enter a word or phrase into a search engine, the sites containing these words will appear first in the search results. These important words are aptly referred to as "keywords" in the SEO and marketing world. Each of your site's pages should contain a variety of relevant keywords. For example, if you own a pizza restaurant, you will want to include the phrases "pizza restaurant" and "pizza delivery" throughout your site. You will also want to include your geographic location with certain keywords to make sure your website effectively reaches your target customers in the area.
Selecting the right keywords can be difficult, but a skilled SEO specialist can help you choose the most effective words to include in your content. This is often done by analyzing other competitors' websites and analyzing closely relevant search engine results.
Mobile-Friendly Design
Mobile phones have increasingly replaced computers as the preferred device to browse the internet. As a business owner, this means your website must be mobile friendly. Web designers will tell you designing a computer-friendly and designing a mobile-friendly site are two different things. However, you must do both if you want your site to reach the widest audience possible and rank well in search engines.
Learn More
Here at KPP, we strive to help business owners like you build SEO-friendly websites. We understand the marketing challenges you face regularly, and we do our best to help you face them successfully.
Learn more about KKP's web design services. Contact your local experts today!
Fast. Local. Personal. For over 35 years KKP has been supplying a comprehensive range of high-quality print, design and sign services as well as marketing assistance to Canadian businesses. For expert assistance, attentive service and affordable prices, contact us today.
Back