How to design a high-impact trade show display?
3/25/2022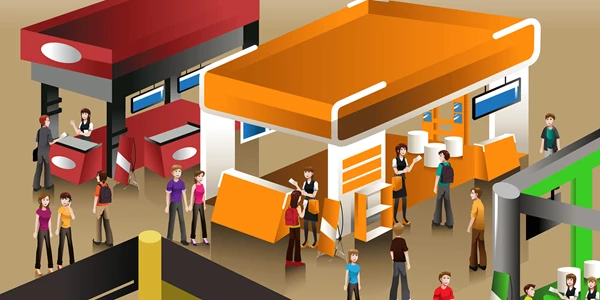 Trade Shows are a cost-effective way to increase brand awareness, generate new leads, and educate attendees on the products and services you provide. These events can also provide access to decision-makers and influencers outside of the office in an environment where they are more receptive to learning more about your company. According to a study by the Center for Exhibition Industry Research (CEIR), "86 percent of show attendees were the decision-maker or influenced buying decision, yet 85 percent have not been called on a salesperson before the show." Many trade shows are industry-specific which means participants are more likely to need your products or services than the general public, creating a targeted and captive audience.
Why should you attend tradeshows? Even though you may not actually sell any products at the event, this article in Entrepreneur, reinforces that tradeshows are an economical way of getting sales. The CEIR reports "closing a sale that begins with contact at a trade show runs about half the cost of closing a sale that doesn't have the exhibition advantage: $550 and 1.4 sales calls compared to $997 and 3.6 sales calls."
Now that you understand the importance of attending a trade show, how do you make the most significant impact to make sure people visit your booth? Just showing up at a trade show will not guarantee you new leads. At a trade show with hundreds, potentially thousands of attendees and vendors – presentation is everything and a priority if you want to capture their attention.
There are a variety of trade show exhibit styles that you can choose from depending on your goals and budget. Here are some of our most popular products that our customers rely on to make the most of their event space:
Foam Core Signs: Foam board is a versatile and cost-effective material that can be used for a variety of trade show needs. Whether you are trying to communicate sale specials, and key products on an easel or promote contests on your table, foam core can be cut to a variety of sizes to meet your needs.
Pop Up Displays: These displays are one of our most popular products for frequent trade show attendees, these modular displays consist of fabric stretched over a frame and are available in a variety of shapes and sizes. They are also collapsible and sturdy enough to be used again and again.
Retractable Banners: If you are looking for quick set-up and a light-weight banner option, retractable banners may be an excellent choice for your company. Simply pull the vinyl banner up out of its stand and slip in the support pole to make it stand up straight. The advantage of using a retractable banner is that it is self-contained in one case.
Standard Banners: A trade show staple and go-to product for many trade show exhibitors. Banners are available in a multitude of sizes and materials. How you want to hang them is customizable as well. Tip: If you are exhibiting outdoors, a mesh banner will allow the wind to pass right through instead of billowing out or blowing over.
Custom Tablecloths: A branded tablecloth is a low-cost, high impact product that will reinforce your brand and your message to trade show attendees. You could pick up a tablecloth anywhere, but when you have one that is printed with your company logo or slogan will strengthen the visibility of your brand.
Trade Show Structures: Depending on the length of the show and the potential return on investment, the trade show display options above may not be big enough. If you are looking for a custom solution, some companies turn to structures that are custom built. For example, if you are doing demonstrations at your booth, a custom printed podium may be a better fit then a standard folding table. If you plan to capture data from attendees for a contest or to opt-in to communications from your company, you may want to consider creating a custom kiosk. If the event lasts for weeks, you may consider creating a hanging structure to make sure that people can see your trade show display across the show floor or exhibit hall.
Now that you understand some of your options for trade show displays, if you need expert advice designing a high impact booth for your next event, reach out to KKP. Contact us today to get started.
Back