How To Design a Winning Product Label
11/20/2019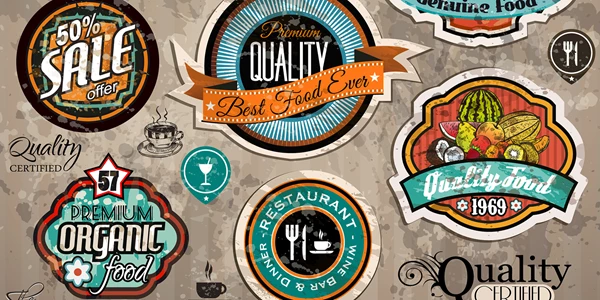 In the past, when there were fewer products offered, labels used to be simpler. While that worked back then, in today's competitive landscape, product labels need to do far more than identify the product. Modern labels should convey quality, invoke curiosity, build trust, and differentiate your brand. But, how do you create custom product labels that do all that and more? Try these product label design tips to get started.
· Keep It Clean
While your label shouldn't be so simple it includes little information about the product; you don't want it to be too busy either. An excellent way to design a custom product label that looks clean is to select a simple image (in most cases, the image is the logo of your brand) and only include the necessary information and highlight the text that identifies the product you are labeling. The last thing you want is for the intended user to have to sift through a bunch of images and unnecessary text before they can identify what's in the box. Shoppers like to be able to easily find what they're looking for with just a cursory glance at the shelves, and if your label doesn't clearly spell out what's in the box, your product is likely to get overlooked.
· Use Illustrations
While most labels may not need anything other than the logo of your brand, if the product requires some additional information about the type of product it is, and you want it to stand out, you can benefit from using an illustration or a simple graphic. Take, for instance, the craft beer industry. Many craft breweries strive to stand out by having local artists design their cans with colorful and creative labels that leave little to no white space. For many of these breweries, the illustrations are indicative of the type of beer they are selling.
· Keep Your Label Consistent With Your Brand
Everything about your label — from the font to the graphics — should speak to your target audience. If you sell kid rainboots, for example, your name should be playful and fun. If you sell women's rainboots, on the other hand, you should use a sophisticated font, a simple color pallet and little to no imagery. Your label should also be in line with your brand's values and beliefs. If you have an existing color and font scheme for your brand, use that.
· Choose The Colours Wisely
Color can make or break the effectiveness of your brand. If your label uses a specific color that stands out on a shelf, consumers are more likely to stop to see what you're selling. However, if you use colors that clash, shoppers will be more likely to write off your product as cheap and not worth a second look.
You should also keep the colors of your label consistent with what you're selling and your brand's name. If you sell a product that is lemon flavoured, your package label should contain colors, such as yellow, white, and maybe light green. Colors such as red, purple and blue would likely throw off consumers.
· Aim for Enhanced Readability
The point of a product label is to inform. Whether you want to inform the buyer of the product name or your brand's name and date of establishment, make sure all information is legible. Not only should consumers be able to read the information on your labels but also be able to identify the product and brand from a distance. To achieve the best readability, try using at the very least, a 6 point font, though 10 is ideal. Choose a font color that contrasts with the background and helps your label stand out.
· Find a Unique Feature
Having a unique look will help your products and your brand stand out and become memorable. This is one of the most important things you need to keep in mind when you design a label. Jones Soda uses black and white images on their soda bottle labels. This a design choice that serves two purposes; the first one is it personalizes each bottle, and the second is it solidifies their image as a retro soda company for consumers. Find that something unique that represents your brand and that customers will remember.
For help implementing these elements on your next label and custom label printing, contact your local KKP team!
Fast. Local. Personal. For over 35 years, KKP has been supplying a comprehensive range of high-quality print, design, and sign services as well as marketing assistance to Canadian businesses. For expert assistance, attentive service, and affordable prices, contact us today.
Back