How to design the perfect business card
8/14/2019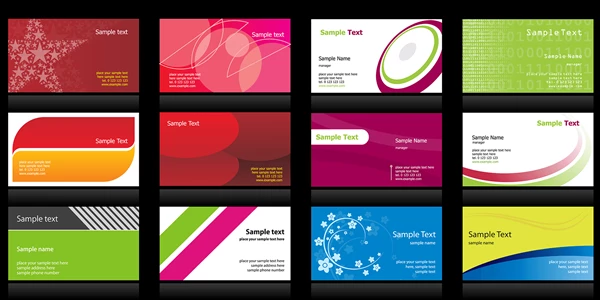 A good business card should help identify your business, but it should also feel personal. There are small subtleties that can make a huge difference on a business card: from the type of font and cardstock you pick to the information you choose to display on it. These small details may not seem to matter to most people, but the truth is they matter a lot and can make a huge difference in how people perceive the business and the person handing out the card.
Imagine receiving a business card from a prospect using the well-known font, Comic-Sans. Would you consider this a serious card? You would probably question the reason why anyone would choose this type of font for a business card, and you may decide not to take this person or business seriously.
A well-balanced card is essential; that's why hiring a professional designer can help guarantee you get the best results. After all, this piece of stationery represents you and your brand. A custom business card will demonstrate professionalism and can open new opportunities for you. We have put together a few design guidelines to help you understand what the perfect business card should look like.
The anatomy of your business card:
No matter what type of business you are in, a business card should always have these elements:
Company Logo
Your Name
Job Title
Your Website
Contact Information
These five elements are a must, and they should all be accompanied by your brand's colour scheme. When it comes to the type of contact information you want to include, it can vary depending on how you want your clients to reach you, however, the ideal business card should have more than one way to contact you. In addition to your phone number and business address, we recommend including your email address and your social media handles.
The type of image you want to present:
Now that you know the elements you need to include in your card, it's time to think about your brand's identity. It is essential your business card design reflects the values, mission, vision, and personality of your brand. Another important factor you should use to inspire the look of your card are the elements that make your brand different from your competitors.
Selecting a suitable design may seem overwhelming; this is where a design team can help. If you are not exactly sure what type of card should represent you and your business, designers can guide you in this process and help you define the identity of your brand.
Your brand identity elements:
After you've determined the concepts that personify your brand, you will be prepared to choose the building blocks that shape this identity.
The typography: As we mentioned before, the type of font you chose for your card can make a huge difference in the way people perceive you and your business. Become familiar with the four major types of typography: Serif fonts, Sans serif, Script, and Display. Each of these can portray different values and evoke specific emotions.
The colour palette: Depending on the values your brand stands for, certain colours will help you communicate your message better. Your type of audience will have particular psychological ties to specific colours; using this information will help you shape the image you want your customers to have of your brand.
The shapes: Forms and shapes are also subtle ways to communicate your message. For business cards, you can decide to go with a traditional rectangular shape, or you can take a more creative approach. Choosing a shape that is out of the ordinary can help you make a statement and be memorable. For example, if you do cosmetic dentistry, a creative shape could be the shape of a mouth smiling.
The finishing touches:
Now that you have the business card design you want, there are still a few other things to consider. When you are ready to print your design, there are certain effects that can help add value to your design. A specialty print shop like KKP can help you understand all the different types of paper and finishes. You will be able to select from options such as embossing, letter pressing, foil stamping, and variety of textures, from traditional smooth or glossy, to shiny or matte.
To get professionally customized business cards, contact your local KKP team!
Fast. Local. Personal. For over 35 years, KKP has been supplying a comprehensive range of high-quality print, design and sign services as well as marketing assistance to Canadian businesses.
Back