How To Get the Most From Your Business' Window Decals
3/20/2019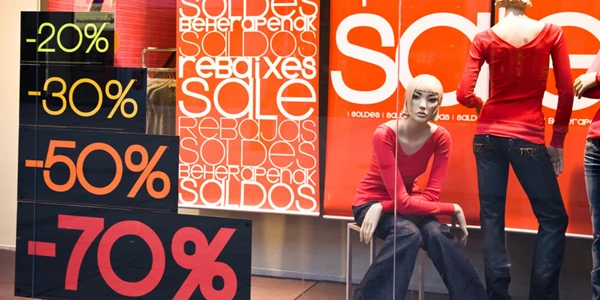 Windows make up a big portion of the storefront and facade of a business. To make use of this valuable space you should consider window graphics and decals for your business. A customized and branded window graphic can help transform your glass into a low-cost, high-impact promotional tool.
Window decals offer many other additional benefits. For example, you can give your team more privacy while also promoting your business. There may be a few uses that surprise you. Read on to learn more about the types of window decals we offer and the various ways you can use them for your business.
Types of Decals
There are a few different types of window decals and graphics. Each type has its own benefits and can be used in a variety of ways.
Window Decals: The standard window decal can transform your clear windows into useful promotional and informational space. Whether you want to showcase your logo, business name or any useful information, decals are a colorful and attractive way to do so. They are made with self-adhesive vinyl making them great for long-term displays.
Clear-Vinyl Decals: These decals are made with a clear background vinyl. This means that they will not obstruct the light or view. They are great for large displays on windows that you do not want to block with the decals.
Opaque Window Decals: Your decals can also be made using an opaque background. These fully block the light and view through a window. They can be used to cover up unsightly views such as an in-construction space. Additionally, they can be used to partially obscure a window for privacy.
Static Window Clings: Window decals are great tools but sometimes you need something shorter-term. Static window clings are very similar to decals, but they adhere using static cling rather than an adhesive. So, you can install them easily and remove them whenever you want. This makes them perfect for short-term promotions.
Uses for Window Decals
With so many types of window graphics to choose from, there are also many ways you can use window decals for business. Here are some of the most popular uses.
1. Branding
Your business' brand is essential to your success. Make use of your window space to advertise, catching the eyes of passerby and giving your business a more professional and polished look. Decals are an affordable way to advertise using the window space you already have. Window decals don't require permits in most localities. So, you can avoid the bureaucracy and expense of getting permits that may be necessary for other types of signage.
2. Events and Promotions
Are you running an event or a temporary sales-promotion? Our window graphics can help you let people know. Window static clings are top choices for this type of information. They are easy to install and remove, making them perfect for temporary displays. Let people know about the holiday sale you are running. Or, inform them that you are hosting an Independence Day event. Whatever your business has going on, window graphics can let people know.
3. Important Information
Every business has information that will be useful to its customers. For example, you may want to clearly display your hours on your front door. Alternatively, you may want to include pricing information for your most popular products and services. If your customers need information, window decals for business displays are great for getting them up-to-speed.
4. Privacy
If your business is on the ground floor or has windows that people outside can see through, you may want to give your team and customers more privacy. Window decals can partially and completely obscure the view through a window while keeping an attractive look. Better yet, you can use those window decals for privacy to also promote your business.
Are you performing some construction? Perhaps you have a space you don't want customers to see such as a storage area or kitchen. Window decals can help you keep those unsightly views hidden. This can work on exterior windows and on interior glass walls. Ensure your business has that professional look with window decals for privacy.
5. Unused Real Estate
Your business may have some real estate it isn't ready to use yet. Perhaps it is a new location that won't be opening for a little while. Window decals for privacy can help obscure the unused space while also promoting your business.
If you are a landlord or developer, this is a great way to let possible tenants know that you have space available. Try listing the space availability and contact information so anyone passing by can contact you.
Get the most from your window with customized window graphics and decals!
Window decals and graphics have many great applications for your business. Whether you want to promote your brand or maintain your team's privacy, KPP Canada's window decals can help you do it.
Fast. Local. Personal. For over 35 years KKP has been supplying a comprehensive range of high-quality print, design and sign services as well as marketing assistance to Canadian businesses. For expert assistance, attentive service and affordable prices, contact us today.
Back