How to Push Past Creative Roadblocks
11/6/2019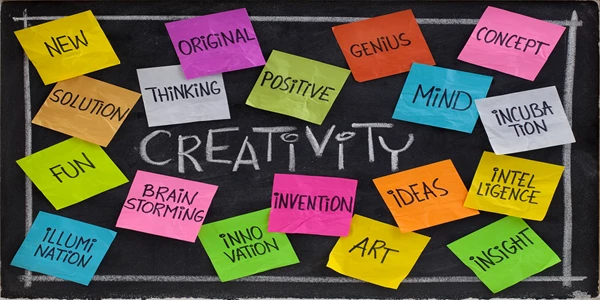 In today's world, content is king. Designs and content are shared every second of every day, both online and in-person, making it important to release high-quality work. So what happens when we can't come up with an excellent design, concept or piece of writing that captures people's attention?
Creativity can be affected by many factors. An article by the American Psychological Association quotes Ph.D. Robert Epstein saying, "stress and time constraints are both creativity killers." While you may not be able to avoid deadlines and the stress they may bring, there are different things you can do to bring creativity back.
How to push past creative roadblocks?
If you are not feeling inspired, here are a couple of easy ways to push those roadblocks and focus on the final product instead of getting stuck on the process.
Inspiration can strike at any time throughout the day; on the bus, waiting in line for coffee, surfing the internet, or first thing in the morning. Great artists, designers, and writers always keep a notebook nearby to capture these ideas, as they can come and go in an instant. If you aren't a fan of carrying a notebook, there are several apps available for a phone or tablet that allow you to doodle, write notes, and even record conversations if you are discussing a concept with a team. Many people find that they are most creative in the morning. Try setting aside a few minutes, as soon as you wake up to scribble down ideas that you would like to explore later.
Traditional schools of thought advise that you should work when you are most alert whether it be in the morning or afternoon, but to push through creative blocks work when you are tired. We are all guilty of self-editing, which can prevent us from exploring new designs and concepts. When we are tired, however, we no longer filter our ideas, allowing us to create and write freely. Of course, you may end up with some ideas that may never see the light of day, but you may end up with a concept or idea that can be developed into a brilliant design or piece of writing.
When a creativity block strikes and you need to surround yourself with new sights and sounds, it's time to leave your desk and go for a walk. "Creative walks" are encouraged by many employers because it gives people the chance to be active and gain a fresh perspective. A study conducted by Stanford University concluded that walking increases creative output by 60%. Walking also reduces stress, making it the perfect afternoon activity to do by yourself or with a couple of colleagues.
If you are struggling with ideas, try using extrinsic motivation, and promise yourself a desirable reward. This psychological hack can help motivate and inspire original thoughts.
It doesn't matter what type of course it is; the only thing that matters is that it's something you enjoy. Expanding your knowledge in different subjects can help activate different parts of your brain and stimulate creative thoughts.
When you work in a creative industry, asking for help can be difficult. However, bouncing ideas off other people will help you approach a problem from different points of view. If you want to think outside the box, you need to be willing to ask others for assistance. At KKP, our team knows the best ideas happen when they collaborate with others.
Creativity spurs innovation, which in turn stimulates growth. If you hit the occasional creative roadblock, it is vital to have a few tricks under your sleeves to push through any obstacles you may find along the way. The next time you are struggling with a design or a project, keep these tips in mind. You will be able to get back to creating amazing work in no time.
Are you still struggling to find inspiration? KKP has a passion for helping Canadian businesses come up with creative solutions. Ask our team about our design, marketing, print, and signage services.
Fast. Local. Personal. For over 35 years, KKP has been supplying a comprehensive range of high-quality print, design, and sign services as well as marketing assistance to Canadian businesses. For expert assistance, attentive service, and affordable prices, contact us today.
Back