Showcase Your Brand through Floor Graphics
3/11/2020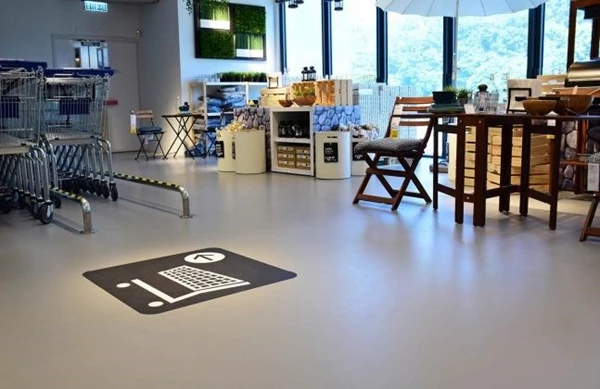 If you are looking for a way to drive attention to a specific area in your business, floor graphics may be the perfect solution. They are highly durable and easy to work with, making them an effective form of print marketing you can use inside and outside of your business. Since they are not a common-place form of advertising when consumers see floor graphics, they stand out and draw a lot of attention.
Floor graphics, also known as "floor decals" or "floor stickers," are a versatile form of signage that can be used for a variety of purposes. They are usually made of vinyl and designed to adhere to different types of flooring for long periods of time.
Floor graphics can be used to promote products and services, and also to share key information about your business while conveying the personality behind your brand. Take a look at these two examples of big brands using floor graphics effectively.
Ikea uses floor decals in all their locations. From the moment you enter their superstore, they use arrows to direct your path and help you find items easily while promoting the effortless spirit of the Ikea brand at the same time. The floor decals are strategically placed, to conveniently guide customers throughout the department store. These graphics not only play a role in directing store traffic, but they also help reinforce their brand's identity.
Motrin, known for products that provide relief of pain and fever, found a fun and humorous way to convey the strength of their products while engaging with customers. They strategically placed a floor decal below their products at a grocery store. The image features a person who appears to be trapped underneath the grocery shelf. Motrin pairs the image with the tag line, "No matter where it hurts, Motrin targets your pain." This floor decal is effective, as it catches attention and reiterates the strength of Motrin's pain relief products in a unique way, compared to their competitors. Through telling a small story with floor decal, Motrin establishes itself as popular and relevant brand.
Effective print marketing can help you convey the story behind your brand through images and content. If you are looking to do something unique at your location, instead of using something permanent such as paint, consider floor decals. Transform your floors with creative graphics. Our team has lots of experience designing, printing, and installing custom floor decals. Contact us today!.
Fast. Local. Personal. For over 35 years, KKP has been supplying a comprehensive range of high-quality print, design and sign services as well as marketing assistance to Canadian businesses.
Back