Six surefire ways to add wow to print
8/23/2017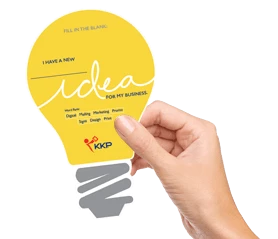 An appealing headline and eye-catching graphic design will certainly help your mailer, brochure or other printed piece stand out. But, so will the many "tricks of the trade" developed over the years to enhance engagement. Here are just a few attention-seeking tips:
Add a bit of intrigue with fluorescent inks that glow in the dark to reveal a message or image. The more ink you specify, the brighter the luminescence. The less fluorescent ink you apply, the more subtle the radiance.


Shape up with die cuts. Add an unusual shape to your printed materials. Whether selling homes, cars or cupcakes, die cuts can create pieces in the form of your subject to attract attention and underscore your specialty.


Scratch off an appealing scent. Consider how a scented ink or coating might highlight your message. Call attention to your beach vacation packages or promote a Mother's Day floral arrangement with a scratch off that suggests a sea breeze or rosy bouquet.


Know when to fold 'em. Letter, accordion, gate, engineering, cross, double-parallel and baronial are but a few of the many types of folds to better present, organize and reveal your message – to say nothing of ensuring your piece fits in a right-sized envelope or folder.


See what pops up. Revealed to the viewer when unfolding a piece, pop-out images can add impact to a mailer or brochure and dramatize a product. Selling custom homes in a new development? How about a pop-up of a completed house, showcasing the beauty of a new model and how quickly one might be completed?


Start with the right finish. Specify a spot varnish in a gloss, satin or dull finish to set apart one image or area from another. Enhance the tactile experience of your printed piece with soft-surface, sandpaper or textured coating. Another option? Embossing for a three-dimensional impression that enables readers to feel the design.
Ready to rev up the power of your printed communications?
Fast. Local. Personal. For over 35 years KKP has been supplying a comprehensive range of high-quality print, design and sign services as well as marketing assistance to Canadian businesses. For expert assistance, attentive service and affordable prices, contact us today
Back