Trade Shows: 5 Ways to Get the Most Value From These Events
10/17/2018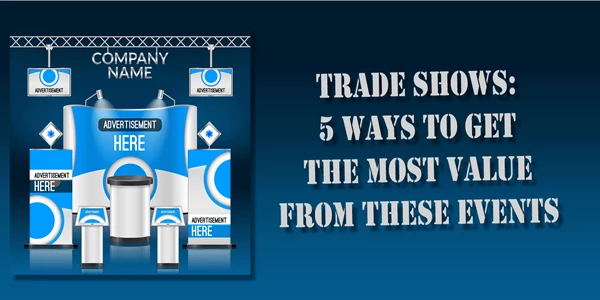 So, you've decided to attend a trade show. Your enthusiasm for them is shared by many. The Event Marketing 2018 Benchmarks and Trends Report notes that most marketers (80%) believe live events are critical to their company's success.
Trade shows are widely recognized as an excellent way to make connections in your industry and get your name out to new people and businesses. However, once you get to the show, what should you expect and what should you do?
Here are five things you should do when you are at the trade show.
1. Be Early – Find out how early you can start setting up and arrive then. You will have the opportunity to start making connections when there are fewer people around, plus if you are able to choose your own spot, you'll be able to pick a prime spot. Always arrive early.
2. Create a Destination Booth – Invest in banners, standees and other marketing material to make your booth stand out from the crowd. Don't be afraid to use color to draw attention yourself. Creating a destination booth may take some work, but it will pay off by attracting visitors.
3. Visit Other Booths – Get someone to cover your booth and get out there with some business cards and start meeting others. This is a fabulous time to find vendors or perhaps even sell your own services.
4. Leave Your Mark - When you are building relationships with others in your industry, sometimes it can help to leave a physical "mark" behind. T-shirts, pens, calendars and other promotional gear are all incredible ways to build brand awareness. Giveaways are especially useful when you approach the idea carefully and make sure your gear gets into the right hands!
5. Connect with Social Media – Make sure you post often on social media and encourage people to see you in person. The trade show might be the perfect opportunity to break through from online marketing to real life marketing and turn a visitor into a customer. On the other hand, when visitors come to your booth, encourage them to visit your website or sign up for your social media programs—so you can reach them again in the future too.
Need assistance with event marketing at trade shows? We're your nearby experts; we can help.
Fast. Local. Personal. For over 35 years KKP has been supplying a comprehensive range of high-quality print, design and sign services as well as marketing assistance to Canadian businesses. For expert assistance, attentive service and affordable prices, contact us today.
Back