Using Direct Mail as a Marketing Strategy
1/9/2019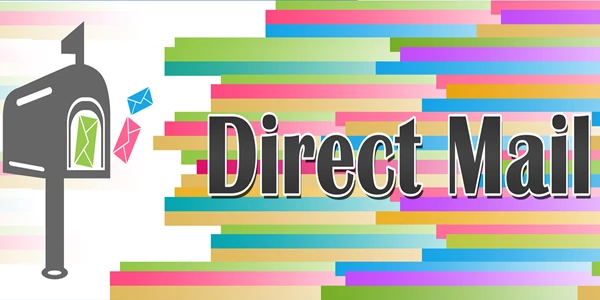 Direct Mail Marketing Strategy
Marketing is all about connecting with prospects to sell your product or service. To do this effectively, a business should utilize many different approaches, including direct mail. You can find information below to help you advance your advertising strategies today.
The Basics
Marketing is a vast topic with many moving parts, so it is important to understand the basics before going any further. You have probably heard about email and digital advertising, but this is a different approach. That being said, what is direct mail? When a company mails out physical materials to consumer's mailboxes it is referred to as direct mail marketing. These materials have a specific message geared towards the company's target audience with the intent of building a relationship with these customers and promoting sales.
In the past there have been negative outlooks on this approach since it used to be seen, and is still sometimes seen, as junk mail. That is the exact opposite of how you want your materials to be viewed, which is why it is so important to get it right. It seems straightforward enough, but let's get into the specifics now.
Back
Direct Mail Marketing Tools
So how do you implement this marketing strategy in your business? This will depend on many factors, starting with your own business needs. For example, what is your marketing budget? How does this approach fit into that budget? You must also consider the return on investment, or ROI, for every print material you send out.
Once the budget is decided on, focus on materials that work for your audience. Without the right approach, the whole campaign could be a washout and your ROI could be low. Direct mail advertising may be more costly than digital, but it can also help generate different leads. It is also worth noting that certain types of print materials are more expensive than others, so it's best to consult a professional company for accurate pricing and expert services. The following materials are ones you can choose from for your direct mail marketing campaign:
Short and long sales letters
Brochures
Newsletters
Postcards
Magazines
Pamphlets
Depending on your business needs and the products or services you provide, you may end up using a few of these methods, or even all of them. The type of mail you send out also depends on your target audience, so it's vital to research that aspect in order to focus your messaging and materials to best suit your audience.
Back
Direct Mail Response Rates
A huge question is, what is a good response rate for direct mail? Obviously, when you spend money on marketing you want to break even at the very least. However, when done properly, your ROI should result in profit for you. Companies that employ direct mail marketing often enjoy high return rates. Certain studies show that print marketing campaigns bring in a 4.4% response rate, which beats out the online rate of 0.12% by a landslide.
This rate does depend on your target audience and the quality of the print materials you mail out. However, working with a reputable and expert partner to create a marketing plan and to help choose the right materials can make a world of difference.
Back
Direct Mail Lists
One of the first things that must be done is to make sure you have a mailing list. This provides you with consumer's addresses for you to send marketing materials and promotions. Direct mail lists enable you to target your specific audience with specialized messaging that is personal, directed and, most importantly, persuasive. From here, you send your print materials to the customers on that list and wait for the sales to roll in.
Back
Advantages of Direct Mail
While this marketing strategy can be more costly than emails or other forms of digital advertising, it is also highly effective at connecting with customers and making sales. Some of the benefits include those below:
Targeted messaging. Print marketing allows you to use specific language that connects with your mailing list. You can even personalize each message by adding the recipient's name to the letter for an added touch.
Appeal to emotions. Due to the targeted messaging, you can appeal to consumer's feelings. This means the audience will form an emotional response to the message and be more likely to send in an order form.
It's memorable. We see things online all the time, but advertisements seem to change every day, if not several times in one day. Combined with the sheer number of messages online or emails you receive throughout the day or week; online marketing is less memorable. However, physical mail people receive in their mailbox is remembered because of the personal nature.
Reach a certain audience. Direct mail advertising enables you to focus your messaging on your target audience. Sometimes this means separating your audience into smaller groups. That means you can create distinct messages for each group or use different print materials. With this method, you can segment your list by your own customized criteria for more effective marketing.
A variety of formats. As mentioned above, there are many different formats for you to choose from. This enables you to stay within budget, reach a particular demographic, and stay in touch with your mailing list.
With all the benefits available, it is a wonder more companies do not employ direct mail as a marketing strategy. Being smart about how you use this approach in combination with other tactics means your business could grow and reap the many rewards on a consistent basis.
Back
Get Started Today
Using print materials responsibly and appropriately can instantly upgrade your advertising efforts. KKP offers direct mail services to help you with all your campaigns. Contact us today to learn more about how our expertise can improve your marketing strategy or to get started on your new approach. We are ready to help you succeed.
Back